Small business supporting small business!
Thank you for supporting small business and quality products that are hand made in the USA! We truly believe your customers and colleagues will appreciate the design and quality of the leather leads, collars, and accessories we handcraft in our Aurora, CO workshop. Detailed product descriptions and photographs may be found in our shop's online catalog.
As a small independent business, we design, manufacture and represent our own products. This allows us to develop close relationships with our customers and retail partners to maintain our standards of quality while keeping our prices competitive. No outsourcing or mass production! We use US suppliers and domestic hides.
Pro Discount for Canine Professionals
Are you a canine professional?  
Order now and 20% off regular retail pricing on BLD's most popular products
Wholesale/Dealer Requirements and Guidelines
BLD's standard leashes, collars and Perfect Pace products are available for dealers, independent retailers, and professionals who need larger quantities of our premium products with an opening order minimum of 24 combined pieces. Contact us directly to request our wholesale price list, and to personally discuss your needs. Please include your business name and tell us what you are looking for in your message. Or feel free to give us a call.
Opening order minimum of 24 combined pieces, reorder minimum of 12 combined pieces.
Price per piece depends on quantity per SKU ordered, see for pricing tiers.
Perfect Pace are available only in cases of 6 pc. with a 2 case minimum order.
Special requests and modifications to BLD's standard product options are available with a minimum of 6 identical items. Let us know what you need and we'll provide a quote if there is an additional charge. For example, you may request special hardware changes or other minor modifications. Or, we are happy to create your own custom product line, let's talk further!
Individual custom items, including specialty service dog equipment, do not qualify for wholesale pricing.
Payment is due when orders are placed. As a small artisan business, we are unable to offer credit terms. Yes, we ship worldwide!
Turnaround time
Most items are made to order; turnaround time is based on combined total number of items ordered and availability of materials. Perfect Pace in the woven material are generally available to ship in 3-5 days.
12-23 items: 2 weeks
24-47 items: 3 weeks
48-71 items: 4 weeks
72-250: 6-8 weeks
If you need something at a certain time, let us know and we will try to accommodate you.
Delivery times may be adjusted based on availability of materials
Our Promise:
We stand behind the quality and workmanship of our products. Every BLD branded item comes with informative tags and includes details on our guarantee. We want our products to be a success for your business: we are happy to make recommendations for items that will suit for your customers, and will allow exchanges to be sure you have what you need.
Our satisfaction guarantee and lifetime warranty extend to you and your customers. Details can be seen here on the website.
Private label branded items  and special order products are not returnable, but are backed by our warranty. We will replace any item that is defective or does not meet standards. Just let us know if there are issues and we'll help figure out the best and simplest way to solve the problem. Photos via email are super helpful. In most cases this means BLD sends you a replacement directly, so you can take care of your customer.
Prices and discounts subject to change without notice due to raw materials cost and availability.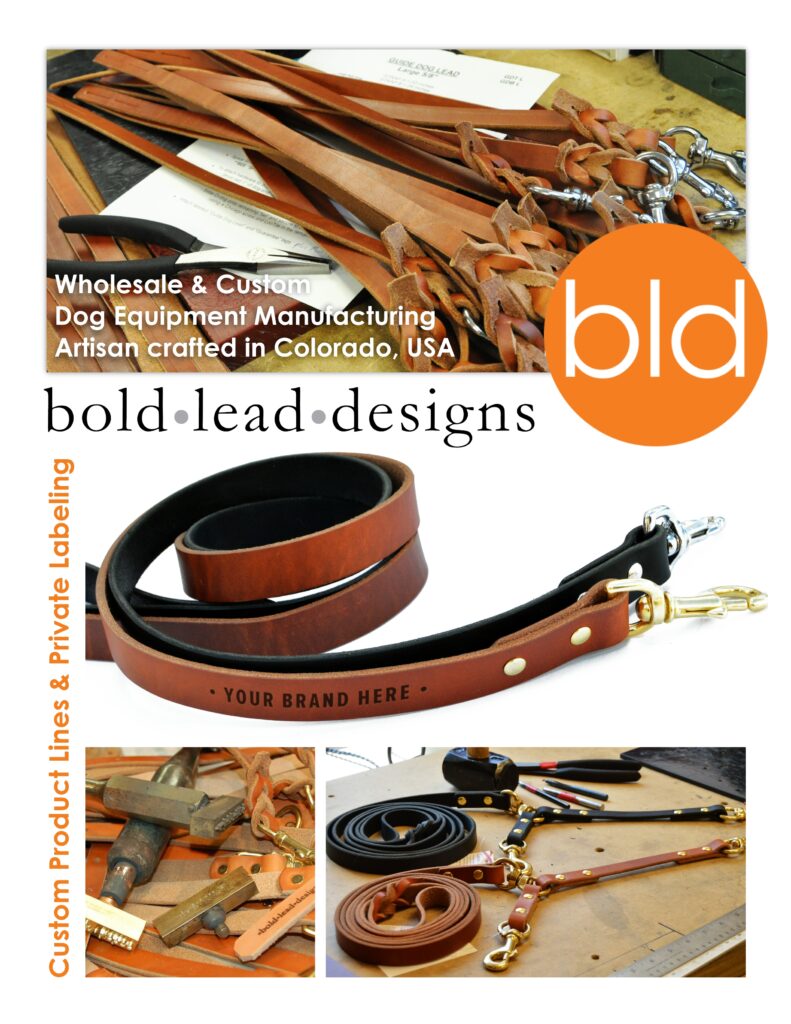 ---
Promote your brand!



BLD specializes in private labeling and custom product design. We'd love to work with you to create something unique to your business and promote your company name.
Get your name in your customer's hands on a premium quality product they will use daily and treasure for a lifetime. Click PDF at right for more info.
Custom Product Lines
Have something special in mind? Need a specialized piece of equipment made to your specifications?
We'll work with you to create a custom product line. Click PDF at right for more info.
Private Labeling/Custom Branding:
Have your name on quality equipment made by BLD.
There is a one-time setup charge to create your custom logo branding plate (Starting at $150). Private Label orders (branded with your logo) follow the same wholesale guidelines above, and may incur a $20 handling charge per order. Handling charge is waived for orders with 12 or more of one SKU. This means there is no additional charge for private labeling when you order a dozen or more identical items.
---
Wholesale/Dealer Policy
We are dedicated to ensuring the integrity of the Bold Lead Designs (BLD) and Perfect Pace brands, and strive to help your business maximize sales.  As artisans, we believe that our products are valued based on the integrity of their design, quality, and durability, rather than on price alone. To that end, Bold Lead Designs, LLC has implemented Minimum Suggested Retail Pricing (MSRP) to protect the consumer experience and discourage price based advertising. Bold Lead Designs and Perfect Pace branded products will be delivered to you with minimum suggested retail pricing ("MSRP") for each item.  If you promote, advertise, or sell BLD or Perfect Pace products below the MSRP, we reserve the right to refuse to supply you with our products at wholesale pricing in the future, at the sole digression of the management of Bold Lead Designs, LLC. This policy excludes: in-store materials at brick-and-mortar location (such as an in-store special or clearance sale), items offered to a dealer's employee or non-profit organization's volunteer/customer for personal use, or items sold as used.  We look forward to continuing to be your trusted partner for premium, professional quality, handcrafted dog equipment.