Each badge is a PAIR of patches: one has hook fastener backing, and one has loop fastener backing. The patches attach back-to-back to wrap around a leash, harness strap, or a handle bar. Circle designs are 3.25" (8.25 cm) in diameter. Octagon design is 3 inches (7.62 cm) across. Need Space design is 3.5″ (8.9 cm). All designs are highly visible and will not interfere with the use of your leash!  All round designs have the same design on each side. The Octagon shaped STOP sign design (#801-802) has a different design on each side, as shown in the photos.
Most designs are digitally printed onto soft twill fabric. New STOP sign designs are made from a damask material; the design is woven into the fabric. All patches are colorfast and washable!
NO SEWING required and they don't fall off!
You may sew these onto a vest if you choose
Works beautifully on BLD's BAH harness! No vest needed!
They are so easy to use: just stick on your leash or harness strap. Re-position or remove at any time.
Try this idea: Buy two different double patch sets, and you can mix and match to put a different design on the front and back.
NOT FOR PETS. LEGITIMATE SERVICE / ASSISTANCE DOGS ONLY. WE WILL ONLY SELL THESE ITEMS TO PEOPLE WITH A MEDICALLY NECESSARY SERVICE ANIMAL. IT IS ILLEGAL TO IMPERSONATE A SERVICE DOG.
Design Options:
*CAPS indicate LARGEST TEXT on design*
301 SERIVCE DOG
302 SERVICE DOG IN TRAINING
303 SERVICE DOG DO NOT DISTRACT
304 STOP DO NOT PET DO NOT DISTRACT
305 MEDICAL ALERT ASSISTANCE DOG
801-802 STOP Please Ignore/ NO Eye Contact Touch or Talk/ Dog is working
307 ASSISTANCE DOG PLEASE IGNORE
308 SERVICE DOG MOBILITY SUPPORT
300 PLEASE STOP I NEED SPACE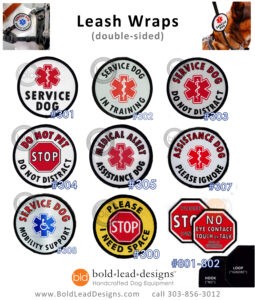 Banner Badge Converter (available separately): 
Specially designed elastic banner with Velcro strips attaches to the handle of any service dog harness. Simply put the Leash Wrap around the elastic, and voila! You now have a 2-sided banner badge! Elastic stretches to fit the width of the handle. Handcrafted in Colorado.
4 inch size: 4 inches (10 cm) of elastic, fits handles 6 to 8 inches wide (15 – 20 cm wide). Use with BLD's BAH leather handles, or other brands of harness bridge handles
Clip On Badge Converter (available separately):
Need to clip this badge onto your collar or harness? Just order a "Clip-on Conversion kit" and you'll be able to wrap it around your leash OR clip it onto a d-ring.