download BLD Wheelchair Leash Info Packet PDf
The Quick-Release Wheelchair Leash System is a short, single-length leash that can quickly be attached or detached from a wheelchair. The leash clicks on and off of your wheelchair with an easy to use quick-release buckle or special shackle snap. Add the optional handle, and it can be used as an ordinary leash. A belt loop is also available for those that wish to attach the leash to their belt. All hardware comes standard in stainless steel/chrome (silver finish). *Not all components are available in brass/gold color.
The Wheelchair Leash System is composed of two different parts, with an optional third part:

Part 1) Detachable Leash:
One end of the Detachable Leash has a regular leash snap to attach to the dog's collar or harness. The other end is made to connect to the chair attachment you choose. Price includes the standard wheelchair attachment.
The leash can be made in your choice of material, color, width, and length. The secret to a safe Wheelchair Leash is selecting the right length! Please measure for the length you'll need. The listed leash length is the overall size of the leash when attached to the wheelchair, which includes the chair attachment. It is adjustable by several inches and can be fine-tuned once attached to the wheelchair and the dog (Initial adjustment may require a helper).
Part 2) Chair Attachment:
The CHAIR ATTACHMENT mounts to the wheelchair. Easy to install on any part of the chair's frame, tubing or armrest with a sturdy Velcro wrap. Chair attachments include a swivel to prevent tangling and can be made in either of the two styles, explained below. Chrome/silver hardware is standard.
Standard Quick-Release buckle

(standard QR) is a metal side-release buckle – just pinch the sides of the buckle to release. The male end of the buckle is on the chair attachment. Brass/gold hardware is

available by request.

*Note: swivel is

only

available in silver.

Shackle Snap

($) is a sturdy and secure

panic snap

that releases instantly by pulling the tab, even under load. The stainless steel shackle is on the chair attachment. The leash will be made with an O-ring to clip into the shackle. The Shackle option requires more dexterity to attach the leash than the standard option, however, it releases in an instant by a hard tug on the release tab. Some clients choose this option if an assistant helps with leashing up the dog.
Part 3) Optional Separate Handle and/or Belt Loop: 
12" Traffic Lead Handle ($):

To use as an ordinary leash when detached from the wheelchair, simply add a 12" Traffic Lead Handle. The handle is a simple loop with a leash snap that clips onto the ring included at the end of the detachable leash. The Traffic Lead Handle will be made to match the color and width of the leash.

Belt Loop Attachment ($):

If you wish to be able to wear the leash hands-free while standing or walking, the Belt Loop allows you to connect the leash to your belt.
Measuring instructions for Quick-Release WC Leash:
Determine where you want the leash to attach to the wheelchair. Choose a location that is within reach of the user and that is structurally sound so as not to damage or interfere with any part of the mobility device.
Attach an ordinary old leash on the dog's collar or harness.
Hold the leash or loosely wrap the leash around the determined attachment point on the wheelchair, at a length that is comfortable for the dog to stand, walk, and sit next to the wheelchair.
Be sure the leash is short enough to prevent the lead from becoming trapped in the wheels and/or motor, yet long enough for the dog to comfortably get behind or in front of the chair to go through a doorway and common tasks.
Measure the old leash from the attachment point on the wheelchair to the dog's collar or harness.
Select the leash length that best fits your measurement. If borderline, select the larger size.
Hardware:
We use only the highest quality hardware—most of our hardware is stainless steel or solid brass for durability and longevity. Stainless steel bolt snaps and chrome finished hardware are standard on all of our wheelchair leashes. Other leash snaps are available by special request, or a Fastener-Free Collar may be built-in. Please know the swivel on the Wheelchair Attachment is always silver.
Premium Leather:
Our leathers are incredibly durable, yet flexible. They feel great in your hands and if well-conditioned and maintained they simply get better and more supple with age. Leather will be either braided or fastened with screw posts, depending on the width you choose.
Our Golden TAN BRIDLE Leather is 100% American vegetable-tanned leather, hand-oiled to bring out the golden tones and softness. The color will darken to a chestnut brown with use and age. Silver finish hardware is standard on this product.
Our lovely BLACK LATIGO is solid black, and superior to ordinary leashes in texture and quality, cut from select USA hides. Our black leather is thick and sturdy for a super strong leash.
Brahma Soft-Grip—a vegan leather alternative:
Brahma Soft-Grip is constructed with webbing on the inside and a durable, non-tacky PVC coating on the outside. Easy to care for: just wipe clean with soap and water. Assembled with screw posts for durability. This material is heavier than leather (in a comparable width), and does not soften over time the way leather does. Black is the most popular color for wheelchair leashes, but assorted bright and classic colors are also available. 
Available Brahma Colors:
BLACK
HUNTER ORANGE (high visibility)
PURPLE
BRIGHT MINT GREEN
TEAL
COBALT BLUE
Leash width:
Regular half-inch wide (12.7 mm) is recommended for most dogs and people as it's sturdy for any size dog, yet not too heavy. If you like a wider, heavier leash and larger hardware, select the wider 5/8″ (or 3/4″ option in Brahma).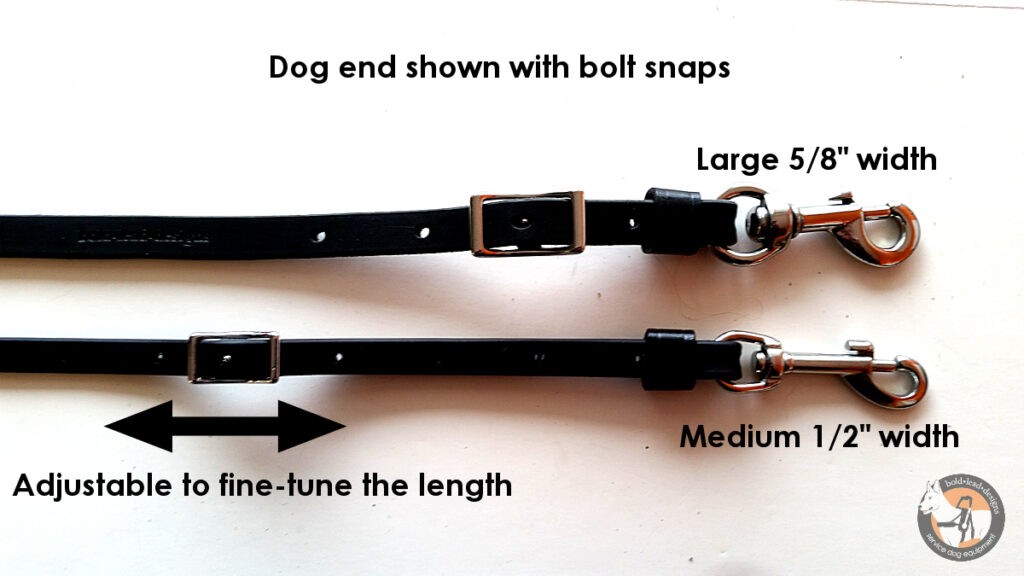 These products are intended for use with fully trained service dogs/assistance dogs/pet dogs that have excellent leash manners. We've designed all of our Wheelchair Leash options to manually detach from the wheelchair in the event of an emergency situation. Why? Because it's simply a smart idea!
Only you can determine if letting go of the leash and attaching it to your wheelchair is the right choice for you and your dog.
Attached leashes (fastened to a person, wheelchair, or another mobility device) are not safe for all dogs and/or users of wheelchair/mobility devices. Please choose your equipment wisely and use responsibly.
Do not use wheelchair leashes with an untrained dog. Not for dogs that pull on the leash. Wheelchair leashes must NOT be used with dogs that lunge or are difficult to control, as this could be very dangerous. Additionally, DO NOT USE FOR PULLING A WHEELCHAIR.
Please note: If your strength or dexterity is limited, you may need assistance from a friend to install the wheelchair attachment and make the initial adjustment to the leash. Once attached and adjusted, the leash will remain at the desired length and is easy to connect to and remove from the wheelchair.
How to install a Quick Release Wheelchair Lead
(standard side release buckle shown)
Premium Leather:
Leather care is easy! Don't worry too much, and don't be afraid to use your items — we promise leather is incredibly resilient, and regular weather won't hurt it. If you think your item looks dirty, dry, or just need a little extra love, pouring a little leather conditioner on a cloth, and rubbing it in like lotion will usually do the trick. Baths and a jaunt in the river are just fine, but you might want to offer a little conditioner to your products afterwards. Saltwater can be harsh, so after a visit to the ocean, a good rinse in fresh water and proper conditioning will help preserve and protect your treasured leash or collar. See our Leather Care page for more specific information.
Brahma Soft-Grip—a vegan leather alternative:
Brahma Soft-Grip is constructed with webbing on the inside and a durable, non-tacky PVC coating on the outside. Easy to care for: just wipe clean with soap and water. Brahma is always assembled with screw posts for durability. This material is heavier than leather (in a comparable width), and does not soften over time the way leather does. Black is the most popular color for wheelchair leashes, but assorted bright and classic colors are also available. Just ask for available color choices!
Lifetime Warranty
We stand behind the quality of our products.
All Bold Lead Designs' handcrafted leather & Brahma products that we make in our workshop are guaranteed against defects in materials and craftsmanship for life!
If your leather lead, Brahma lead, training equipment, or harness ever breaks or is damaged from regular use, simply contact Bold Lead Designs for a replacement or repair at no charge. There is no time limit. This is the best warranty in the industry.
If service is required, please see Warranty Claims & Repair Service below.
Warranty is limited to replacement or repair of covered product only, and does not cover things outside of our control such as chewing, neglect, misuse, normal wear, external trauma, or customer alterations. Bold Lead Designs reserves the right to determine if a repair or replacement is covered by our warranty. Items we don't make in our workshop, such as accessories and consumable items, are excluded. Note: bldBASICS, any item sold as used or imperfect or marked with a star is excluded from this warranty or guarantee.
Limitation of Damages:
Guarantee/Warranty is limited to replacement or repair of product only. Bold Lead Designs, LLC, or its associates, cannot be responsible for any claims or liabilities beyond the scope of the guarantee. Chewing, neglect and misuse, customer alterations, external trauma, and items marked with a star void all warranties. No other warranties, expressed or implied, are made. User assumes all responsibility for proper and safe use of product and care of animal. Customer pays for shipping for warranty claims. This warranty is nontransferable.
Have a warranty issue? Need a repair or replacement?
Please contact us first so we can help determine the best way to get you taken care of!
If the product sustained damage under normal use, and is covered under warranty, we will make it right at no charge (just pay for shipping).
Non-warranty repairs and alterations may be available, even for chewing and external damage. Repair costs start at $5 plus shipping. We will provide an accurate quote upon assessing the damage.
What to do: Tell us what product you have and what the issue is. If you can, please email us photos of the damage so that we can determine the best solution (repair, replacement, or something else). Usually we will have you mail the item to us, in which case we ask that you send the item to us with a completed Warranty-Repair Form. Please download, fill it in, print, and include with your return.
All warranty claims and repairs must be accompanied by the form otherwise we won't know what to do with your item when received. If you don't have a printer, you may write out all the pertinent information on a paper and include it with the item. Customer is responsible for all related shipping costs.