Bold Lead Designs has perfected the no-pull, front-clip walking harness making the Connected Control™ Harness (CCH) the only leather harness of its kind. This beautiful dual-connection or two-point harness allows for leash connection from the FRONT or BACK of your dog's body. The front connection on the dog's chest discourages pulling by gently re-directing the dog's movement back around toward you. The back connection at the top of the shoulders is great for slowing/controlling your dog's body position or restraining (if needed). Both points can be used together with a double ended leash!
At a glance:
Pain free, force free, humane, and effective for training

Facilitates communication with your dog

Redirects unwanted pulling and offers directional cues

No pressure on throat and does not restrict head

Leash clips to the front, back, or both!

Does not tighten or pinch

Durable to restrain even the strongest dog

Adjustable for a perfect fit

Easy to put on and take off with metal Quick-Release buckles

Made with premium American leather and quality hardware
Design Features:
Humane & Functional Design: This body harness does not restrain the dog's head or face. There is no pressure on the dog's throat which eliminates choking and neck strain. The Y-shaped breast collar does not restrict the dog's shoulder blades, which allows for full range of movement and minimizes shoulder strain. 
Adjustable & Easy to Use:  This harness has 5 adjustment points to assure a perfect fit for your dog's individual body! Adjustments can be made around the shoulders, girth/chest, and between the front legs. Initial fit adjustments can take a little time, but once it's fit to your dog properly, the harness is very easy to use. Each harness is made with durable metal Quick-Release buckles, which are easy to operate and are excellent for those with limited strength or dexterity.
Comfortable: Our soft and durable leather is gentle on the dog's coat, and doesn't irritate or damage fur like nylon straps can. For your dog's comfort, the edges of all straps are beveled, plus it's designed to keep the hardware away from the dog's elbows to prevent irritation. Harness comes with a FREE neoprene pad for the top to keep your dog comfortable. Optional sheepskin padding for chest straps is available separately for extra comfort if desired. This harness is also available in our vegan Brahma Soft-grip material, which is waterproof and extra durable. See the Material & Hardware Options tab for more information. 
Note: This is not a pulling harness. It should not be used for weight pulling, cart pulling, wheelchair pulling, skijoring, tracking, balance, etc. This harness is not intended as a seat belt restraint and it has not been tested for this purpose.
A Harness with a Story:
Fantastic for BLIND or DEAF dogs! This harness facilitates communication and directional cues so it is perfect for special needs dogs that require some guidance. In fact, this harness was developed with and first tested on the owner's blind dog Cora, the shepherd mix in the photos.
"Cora lost her vision at 9 years old and struggled to walk on a leash because she couldn't figure out where or how fast her person was going! She weaved, alternated between plowing ahead and lagging behind, and ran into objects on her daily walk which caused confusion. In her new harness, Cora immediately appreciated the close-contact and communication that the two attachment points provided, and walks smoothly and easily now. It is easy to direct and guide her with very light pressure, almost like reins on a horse. Slight tension is kept on both ends of the leash which allows her to feel exactly where her human is and what direction to go. I would recommend this for dogs that are blind, deaf, or that have other neurological or behavioral issues that would benefit from improved contact and cues from their handler." –Katrina Boldry
Measuring:
This is a very sturdy harness for dogs 50 pounds and up. 
Please measure your dog's girth, which is behind the front legs around the deepest part of the chest. We recommend using a fabric measuring tape or a piece of string. Always measure before ordering to ensure a proper fit and measure 3 times for accuracy! Weight and breeds are listed for reference, but do not replace the importance of measuring.
Sizing:
Small:

DISCONTINUED – due to the substantial nature of the straps and hardware, this harness is too heavy/bulky for smaller dogs

Medium:

LEATHER ONLY – girth/chest size of

28-32″

(71-81 cm); dogs approximately 50-70 pounds
Suggested breeds: Aussie, Small Lab or Golden Retriever, Husky, large Pit Bull, large Standard Poodle, Malinois, Weimaraners
Med/Large for deep chested dogs:

LEATHER ONLY – girth/chest size of

32-35″

(81-90 cm); dogs approximately 60-80 pounds
Suggested breeds: large and tall Retrievers, larger Weimaraner, smaller German Shepherd or Doberman
Large:

girth/chest size of

32-35″

(81-90 cm); dogs approximately 80-110 pounds
Suggested breeds: Large German Shepherd, Doberman, Am. Staffordshire
Extra Large:

girth/chest size of

36-40″

(91-102 cm); dogs approximately 110-140 pounds
Suggested breeds: Great Dane, Rottweiler, Bernese Mountain Dog, Newfoundland
If your dog is between sizes, size down.
If your dog is young and growing, consider selecting one size larger than his current measurement. Please realize that a harness that fits a 4 month old puppy will probably not adjust large enough for when he's full grown.
Accessories (available separately):
Leads: This harness can be used with any double-ended leash, but we've designed the Two Point Leash especially for this harness! Check out our special leather Two Point Leash.
Sheepskin Padding: We found an American company to make beautiful, soft sheepskin wraps to enhance the comfort of this harness. Check out our Sheepskin Padding Wraps here.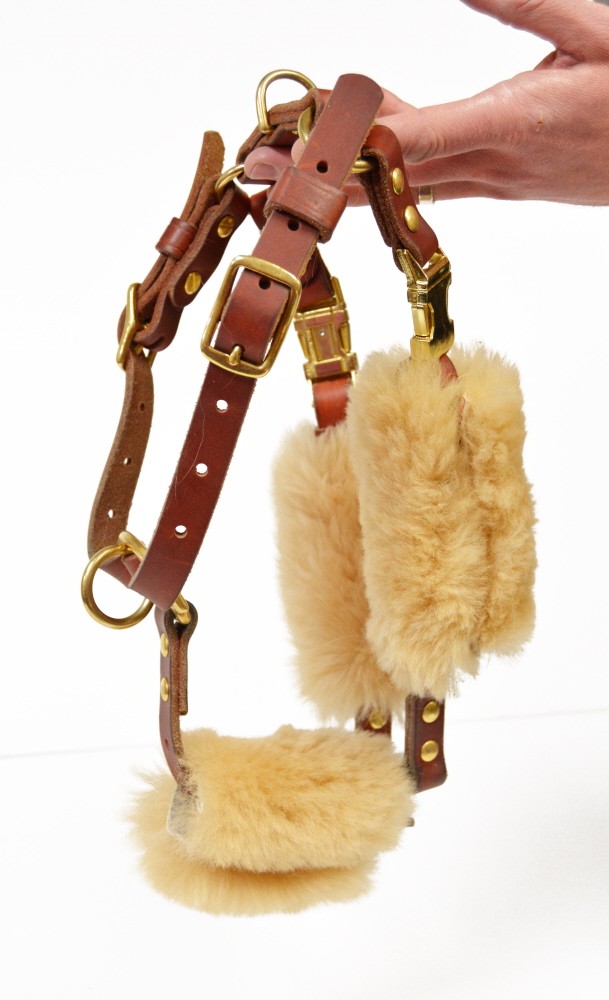 Brahma:
Choose your color:
BLACK

HUNTER ORANGE (high visibility)

PURPLE 

BRIGHT MINT GREEN

BRIGHT RED 

TEAL

COBALT BLUE
Stainless steel/silver colored hardware comes standard on all Brahma products. For brass/gold colored hardware select the option "Make with OTHER Color Hardware."
About Brahma:
Strong as a Brahma bull, this man-made leather alternative is great for your adventurous pal. It is constructed with webbing on the inside and a durable, non-tacky PVC coating on the outside. This material can take a beating through brush, muck, and saltwater. Brahma is great for any extreme weather condition, resilient in cold weather, and is resistant to abrasions and stink. It is a nice weight, flexible, and has a feel that resembles leather. It won't absorb dirt & moisture like rope, nylon or fabric. Brahma material is so reliable that it comes with our unmatched Lifetime Warranty! Plus, it is easy to clean: Just wipe clean with soap and water.
Leather: 
Our leather comes in two colors: Tan and black. 
Our standard leather/hardware color combinations are:
Black leather with stainless steel/silver colored hardware
Tan leather with brass/gold colored hardware
*If you would like a different leather/hardware color combination, select the option "Make with OTHER Color Hardware".
*Note: brass hardware can stain white/light coated dogs. Sometimes the oil in dogs' coats can create tarnish, a harmless chemical reaction. 
About our leather:
Our Golden TAN BRIDLE leather is 100% American vegetable-tanned leather, made with NO dyes or toxic metallic chemicals. Every item crafted from this high quality leather is HAND-OILED to bring out the softness, so your new gear arrives supple and only improves with age. The color will darken over time and with use.
Our lovely BLACK LATIGO leather is solid black and cut from select USA hides. Superior in quality and texture, it is incredibly durable yet very flexible. This leather feels great from the start and will simply get better with age.
This sturdy material and hardware is pretty heavy and only recommended for dogs over 50 pounds. Only available in 1″ width. If you wish for an animal-free product, please omit the sheepskin pad when you order. 
Premium Leather:
Leather care is easy! Don't worry too much, and don't be afraid to use your items — we promise leather is incredibly resilient, and regular weather won't hurt it. If you think your item looks dirty, dry, or just need a little extra love, pouring a little leather conditioner on a cloth, and rubbing it in like lotion will usually do the trick. Baths and a jaunt in the river are just fine, but you might want to offer a little conditioner to your products afterwards. Saltwater can be harsh, so after a visit to the ocean, a good rinse in fresh water and proper conditioning will help preserve and protect your treasured leash or collar. See our Leather Care page for more specific information.
Brahma Soft-Grip—a vegan leather alternative:
Brahma Soft-Grip is constructed with webbing on the inside and a durable, non-tacky PVC coating on the outside. Easy to care for: just wipe clean with soap and water. Brahma is always assembled with screw posts for durability. This material is heavier than leather (in a comparable width), and does not soften over time the way leather does. Black is the most popular color for wheelchair leashes, but assorted bright and classic colors are also available. Just ask for available color choices!
The proper fit for each harness is assured by our Great Fit Guarantee. Our famous Lifetime Warranty, plus BLD's excellent customer support, is standard with everything we make in our workshop.
Great Fit Guarantee
All new harnesses and custom service dog equipment come with a Great Fit Guarantee. Every effort is made to produce a harness that fits your dog perfectly. If we made an error, or a fit adjustment is needed, we will correct it at no cost to you within the first 4 weeks of delivery. This includes new parts and standard shipping. If inaccurate information or measurements were given when the order was placed, we will still adjust your harness or fabricate new parts at no charge to ensure the correct fit, but shipping costs will apply. (There may be additional charges for a change of size and/or features as well.) Sorry, no refunds or returns are accepted on all new harnesses and custom service dog equipment. We will do our best to be sure you have the right equipment, properly fitted, and we promise to be here if you have questions.
Lifetime Warranty
We proudly stand behind the quality of our products. Bold Lead Designs' handcrafted leather & Brahma products are guaranteed against defects in materials and craftsmanship for life!
If your BLD harness ever breaks or is damaged from regular use due to materials or craftsmanship flaws, contact Bold Lead Designs for a replacement or repair at no charge. There is no time limit. Customer is responsible for shipping charges.
If you ever have issues or questions about your equipment, contact us at the workshop so we can help find a solution! Non-warranty repairs and service may be available for a nominal repair charge. Replacement parts may be available for purchase.
Warranty is limited to replacement or repair of covered product only, and does not cover chewing, neglect, misuse, normal wear, or customer alterations. Bold Lead Designs reserves the right to determine if a repair or replacement is covered by our warranty. Items we don't make in our workshop, like accessories and consumable items, are excluded. Note: any item sold as used or imperfect or marked with a star is excluded from any warranty or guarantee.
Limitation of Damages:
Guarantee/Warranty is limited to replacement or repair of product only. Bold Lead Designs, LLC, or its associates, cannot be responsible for any claims or liabilities beyond the scope of the guarantee. Chewing, neglect and misuse, customer alterations, and items marked with a star void all warranties. No other warranties, expressed or implied, are made. User assumes all responsibility for proper and safe use of products and care of animal. Customer pays for shipping for warranty claims. See our warranty page for complete details.