Our annual Collar Sale! Going on now.
20% off ALL dog collars, includes leather and our NEW Brahma collars!
February 8-28, 2016 SALE EXTENDED through March 31, 2017 (good on new retail orders only)
Use coupon code: COLLAR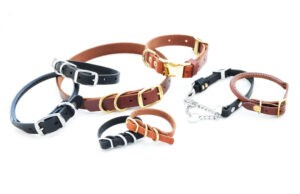 ---
 Want more deals? Sign up for our newsletter.
We offer occasional specials & discounts, announce new products,
and share highlights from our workshop. No spam, we promise. And we'll NEVER share or sell our email list.