Basic Assistance Harness
This is not your average service dog harness! It is unlike any other harness or vest that claims to be for "mobility" assistance or support. This one is properly designed to offer the support and security you need, and is correctly designed to fit the dog's body to distribute weight and minimize pressure points. This harness is extremely durable, and we guarantee the quality and workmanship. This will be the only harness your dog will need throughout his working life. Complete harness is $305. Buy Now. See Resources PDF links for more info.
Basic assistance harness provides:
Counter balance support for stability
Pulling assistance for forward momentum
Secure support with no slipping or shifting
Communication between dog and partner
Proper fit and correct support
Lightweight, comfortable fit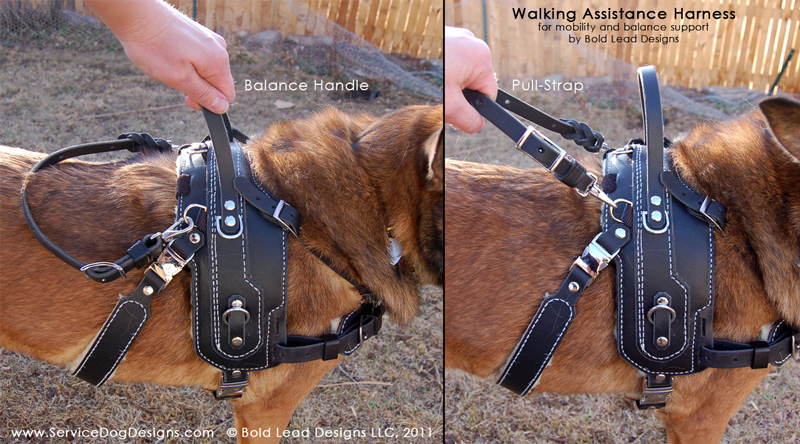 This harness is ideal for those who need counter balance and/or pulling support, or who need to stay in close communication with their partner. Perfect for medical alert dogs. Also great for transferring to or from a seated position. Can be used as a part-time wheelchair pulling harness.
We have designed our harness with the dog's physical structure and movement in mind, then added features to make it user friendly. Guided by a veterinary orthopedic surgeon, this harness allows the dog to move, breathe, and work unencumbered by the equipment. User-friendly features make this harness truly accessible. Our harness does not slip or shift, making it most ergonomic and stable assistance dog harness available. Custom made to fit perfectly. NOTE: This harness is different from our Mobility Support Harness because it does NOT have a rigid brace handle. All of the other design features and quality are the same.
Important note: dogs should be physically mature before beginning harness work. Dogs must be physically sound and of appropriate size for mobility work.
Features and benefits
Fully padded for comfort and correct support
Quick release buckles make it EASY to put on and take off
Adjustable straps for a perfect fit
Proper weight distribution minimizes pressure points
Ergonomically correct for dog's body
Very light weight and flexible (around 2 pounds)
Fixed leather balance handle is made to your desired height
Adjustable and removable pull-strap
Superior quality materials and workmanship
Top quality leather, sheepskin, and quality rust-free hardware for durability
Custom made to fit your needs and the dog's measurements
5 D-rings on harness saddle for attaching straps or accessories
Great Fit Guarantee!
Guaranteed quality and excellent customer support
Replacement straps are available to fit the harness to a new dog